1945-1959
POST-WAR 1945-1948

Regimental Events

1948 The Second Battalions of all regiments of Infantry were disbanded. HLI battalions formally amalgamated in order to preserve certain traditions of the old 74th Highlanders, including the retention of the Assaye Colour .

In 1947 the HLI re-adopted the kilt after a gap of 138 years.

In the same year, Her Royal Highness The Princess Margaret was appointed Colonel - in - Chief of the HLI.
Royal Scots Fusiliers

1 RSF returned to India from Burma in 1945. The next two years were to be eventful and troubled as India prepared for independence and tensions increased between Muslims and Hindus. The Battalion was stationed in Delhi with a mixed remit of internal security and ceremonial duties. Later it moved to Meerut but soon returned to Delhi. Late in 1947 it was heavily involved in evacuating British civilians from the Punjab.

In December 1947 1 RSF, now reduced to a cadre, left India and returned home, being stationed in Ayr prior to moving to join 2 RSF in Germany.

2 RSF remained in Germany as part of the Occupation forces. After several moves in 1945 the Battalion settled in Minden and was later transferred to Dortmund. In 1948 it made an emergency move to Berlin to increase the garrison there. This was the year in which the Russians cut Berlin's land routes in an attempt to force the Western Allies to leave. After a five month tour, 2 RSF returned to Dortmund.

Amalgamation: The cadre of 1 RSF joined 2 RSF in Dortmund and in October of the same year (1948), the 2nd Bn was re-titled 1 RSF.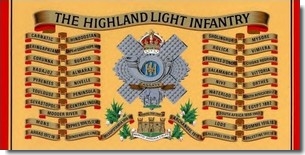 Highland Light Infantry

1 HLI was sent from Germany to Palestine in 1945 to help with internal security as religious friction increased between Arab and Jew.

In 1946 it was moved to Egypt during which time it formed the ceremonial guard at the Citadel, Cairo when the Union Jack was lowered for the last time in July 1946.

Later in the same year, the Battalion returned to Palestine where tensions had reached a critical stage in the run-up to the creation of the State of Israel. 1 HLI was much involved in peace-keeping and suffered ten men killed and nearly seventy wounded. It was the last British unit to leave Jerusalem, in May 1948. Returning to Britain the Battalion went to Fort George to become the Training Battalion of the Highland Brigade.

2 HLI had a very brief stayin Austria before being moved back to Greece. Here it served at Drama on the frontier with Bulgaria. Then came a brief respite near Athens before a return to Drama and then a move to Salonika.

In late 1947, 2 HLI, reduced to a cadre, returned to Scotland and was stationed in Glasgow prior to amalgamation with 1 HLI. This occurred in Fort George, the remains of 2 HLI joining 1 HLI becoming 1 HLI ( 71st and 74th).
Here and There - 1948-59

Regimental Event
The impending amalgamation of the RSF and HLI was announced by the War Office in July 1957.
1RSF

The Battalion continued to serve in Germany , stationed in Dortmund, Bielefeld, Munster and Wuppertal. At the end of 1952 it moved to what was to be its last station of the tour, Berlin, where it was housed in Montgomery barracks. From here the Regiment received news that it was to prepare for an operational tour in Malaya.
MALAYA - 1954-57

Leaving Berlin early in 1954 1 RSF disembarked in Singapore at the end of April. Following training in Johore it moved north, joining the 1st Federal Division. This was the time of the Malayan Emergency and a period of continuous active service, mostly in the jungle. There were several changes of location, Bn HQ being first at Butterworth, then Batu Gajah, Kroh and finally Ipoh.

By the latter part of 1955 almost the entire Battalion was concentrated at Ipoh, with the exception of B Coy which was stationed a few miles away at Tanjong Rambutan. The main area of operations was in the Ipoh Valley and its surrounding jungle.
Home and Abroad - 1957-58

Leaving Malaya in May 1957, 1 RSF sailed home the long way, round the Cape of Good Hope , allowing a quick visit to Cape Town and a parade in the city. On arrival in Britain it moved to Shorncliffe to become part of 1st Guards Brigade. There followed a period of training and garrison duties before fate stepped in again in June 1958. The entire brigade was warned of a possible emergency tour of Cyprus as the Greek Cypriot terror campaign aroused the Turkish Cypriots to strike against the Greeks. 1 RSF was stationed in Famagusta, with B Coy at Larnaca. In July trouble in the Middle East resulted in 1st Guards Brigade preparing for a potential move to Jordan, however this did not materialise. 1 RSF moved to Nicosia and resumed internal security operations.

In October 1958, the Battalion returned to Shorncliffe and prepared for a move to Edinburgh and eventual amalgamation.
1 HLI

After two years at Fort George, 1 HLI reverted to being an operational battalion and moved to Colchester in 1950. The following year it moved to the Mediterranean area, serving in Tobruk, Cyprus and then the Suez Canal zone: the Army being plagued by Egyptian trouble-makers and alert thieves pretending to be ETMs!
Home, Cyprus and Germany
1 HLI returned home in late 1954 and was stationed in Bulford. While in this station it was alerted to prepare for an emergency tour in Cyprus, eventually moving there in January 1956 on internal security duties against EOKA, the Greek Cypriot terrorist organisation. The Battalion operated in NE Cyprus with its HQ at Dhavlos.

In January 1957 the Battalion returned home and prepared to move to Germany, where it served in Luneberg.
---

1959 - 2006