Sir Winston Churchill
Lieutenant Colonel Winston Churchill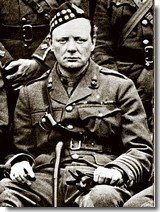 Lt. Col Winston Churchill commanded 6th Battalion RSF in 1915. The Scots soon warmed to the dour Englishman when he ordered dry socks for sentries who had been standing in the rain. His section of the front at Ploegsteert became one of the most aggressive.
While in command, Lt. Col Churchill personally made 36 forays across no manís land. On giving up command, he followed Haigís instruction and returned to the House of Commons to secure the one thing most needed - conscription.
On 24th April 1953, Queen Elizabeth II knighted Churchill. Her Majesty made him a knight of the Order of the Garter, Britainís highest order of knighthood, Churchill had originally been offered this back in 1945, but he refused it because of his political partyís defeat.
Sir Winston Churchill was later to remark: "Although an Englishman, it was in Scotland I found the three best things in my life - my wife, my constituency and my Regiment."
"Those that fail to learn from history, are doomed to repeat it." - Sir Winston Churchill
---