Lodge HLI the RHF No.1459
Lodge HLI the Royal Highland Fusiliers No.1459
HOW THE LODGE WAS FOUNDED:
LODGE THE HIGHLAND LIGHT INFANTRY (City Of Glasgow 1459)
Taken from the original minutes:
Brother David Littlejohn, Lodge Regal 1422, serving as a regular soldier in The Highland Light Infantry (City of Glasgow Regiment), impressed by the number of men of his famous regiment who were members of the Craft, and who he had met at a Masonic Burns Supper, mentioned to several of them that it would be a fine thing if a Regimental Lodge could be Founded, and they there and then agreed. With the assistance of Brother John S Reid, Lodge Oatlands 1005 (Hon-Secretary of the Regimental Club) and Brother William Morrison Lodge Thistle and Rose73, a list of all known Brethren who had served or were still serving in the Regiment was compiled.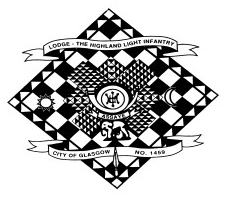 This is only a small part of this fascinating story, so to find out and read more about our Regimental Lodge please click the link below, the site is now back online and currently undergoing updates:

Col Shadwell Henry Clerke 1836 to 1891 was a commissioned Officer in the 21st Fusiliers, he held high rank in masonry as Grand Secretary – the man who runs Craft Masonry. The link below is an article taken from the Rose Croix Communications, this publication a Masonic one is issued free to members and is reproduced in part by kind permission of George Hodge Editor.
"Who was Colonel Shadwell Henry Clerke"
Note this is a PDF document
or

"Who was Colonel Shadwell Henry Clerke"
this is a Word document