Birkenhead
26th February 1852 - THE BIRKENHEAD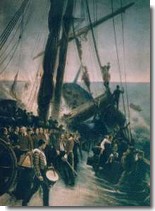 In January 1852 the Birkenhead troop transport sailed under the command of Royal Navy Captain Robert Salmond for the Cape of Good Hope with reinforcements for the Kaffir War. The 74th had the largest draft on board, and the Officer Commanding Troops, Lieutenant Colonel Seton, had just been appointed to the command of the 74th in place of Lieutenant Colonel Fordyce, killed in action.
Besides the troops, who were nearly all young recruits, there were about twenty-six women and children. The ship went on the rocks off Danger Point, while rounding the Cape, and the water, rushing in, drowned many soldiers in their hammocks. The remainder fell-in on deck under their officers, manned the pumps, and got the few boats safely away with the women and children. When the ship broke up, Colonel Seton called on the men to stand fast, lest by jumping overboard they should endanger the boats, which were lying close by.
They kept rank and went down with the ship, there being only 193 survivors out of a company of 631; but all the women and children were saved.
The incident fired the world's imagination, and the story was read aloud to every regiment in the Prussian Army, as an example of supreme discipline, courage and self-sacrifice.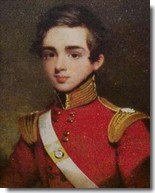 "Not all deeds of glory, valour and steadfastness take place on the field of battle".
"HMS BIRKENHEAD"
The Birkenhead was a British iron, paddle-wheel frigate of some1400 tons.
She was built in 1845 by Laird and had been converted into a troopship in 1848.
Her name was changed from Vulcan to Birkenhead.
The ship sank only 25 minutes after she had struck the rocks.
The wreck lies in 30 metres of water.
She was said to be carrying military wages of £250,000 pounds in 120 boxes of gold and silver coins.
The Birkenhead secured a place in history due to the gallantry of her men, who, in the face of great danger, allowed the women and children to escape in the boats before trying to save themselves and establishing "The Birkenhead Drill" the great naval tradition of "women and children first!"
---