Library
The Regimental Library

The museum also houses the Regimental Library which is accessible to the public between the hours of 9:00am and 4:00pm, by prior appointment with the Regimental Secretary.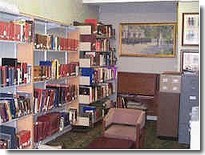 The library contains Regimental Histories for the HLI, RSF, RHF and other regiments in the British Army, Campaign Histories from pre 19th Century onwards, medal lists, information regarding uniforms and weapons, as well as maintaining extensive scrapbooks and photographic records.
In addition the library holds copies of The Scottish National War Memorial Rolls of Honour for World Wars I and II.
---