50th Anniversary

50TH ANNIVERSARY
OF THE FORMATION OF
THE ROYAL HIGHLAND FUSILIERS
(PRINCESS MARGARETíS OWN GLASGOW AND AYRSHIRE REGIMENT)

The Defence Review of 1957 announced the abolition of conscription and a return to all regular forces of roughly pre-war size.
Due to the many changes in the Army's structure which had evolved since 1939 this entailed a reduction of the Infantry,
thirty regiments being amalgamated in pairs to form fifteen.

The RSF and HLI were one of the pairs selected for amalgamation and this took place at Redford Barracks,
Edinburgh on 20th January 1959.

The new title adopted was the Royal Highland Fusiliers (Princess Margaret's Own Glasgow and Ayrshire Regiment).

This important milestone in the Regimentís History was celebrated on Sunday 1st February 2009 with a service in
Glasgow Cathedral conducted by the Reverend Doctor Lawrence Whitley MA BD PhD, Minister of
Glasgow Cathedral followed by a march through the City to George Square.

Led by the Colour Party and Pipes and Drums of the Royal Highland Fusiliers, the Second Battalion The Royal Regiment of Scotland
Veterans of the Regiment formed up by Branches and RHF Cadets and marched to Church starting within the Cathedral precincts.
The Colours and Branch Standards were marched into the Cathedral with due ceremony.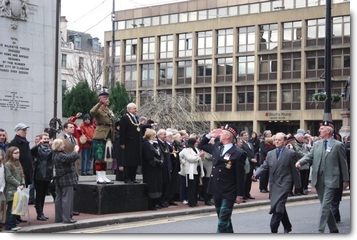 After the Service the Parade reformed and marched through the City to George Square under the direction of
Parade Commander RSM John Hamilton Rtd. marching behind the last stand of Royal Highland Fusiliers Colours,
these colours were presented by HRH The Duke of York, our Royal Colonel on operations in Afghanistan,
where the salute was taken by the Rt. Hon Councillor Bob Winter, Lord Provost, City of Glasgow and the
Deputy Representative Colonel, Colonel N.T. Campbell, The Royal Highland Fusiliers.

The Parade then fell out in George Square after which there was a Civic Reception in the City Chambers.

"Nemo nos impune lacesset"